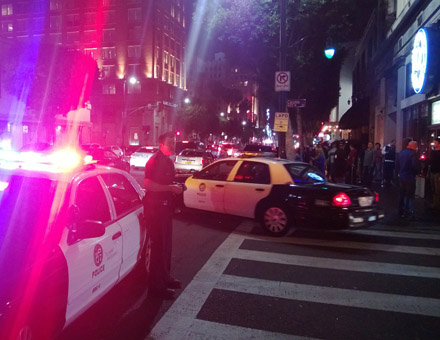 Friday night on Hollywood Boulevard – a tremendous buzz and excitement all around: people taking pictures on the Walk of Fame posing next to the star of their favorite singer or actor, long queues in front of bars and clubs, with skimpily dressed women shivering in the still fresh night air as they are trying to impress burly bouncers, hoping that they get in and might be lucky and have a chance encounter with a movie producer or Leonardo di Caprio. A little further, live music thumps from the clubs along the famous Sunset Strip. This is where bands such as The Doors and Guns N'Roses were discovered, and you never know whether the singer you listen to in an intimate club tonight might be the next Elton John who made his debut here many years ago.
It is day 124 of our journey from Africa to Brazil - I have been in Los Angeles now for five days, waiting for Pele to be released by US Customs. Each day, I contact our local logistics partner and ask them if there is any news and each day they tell me that so far, they have not heard anything and I should call again tomorrow. I am making use of the time and discover Los Angeles - I hike to the base of the famous Hollywood sign, stroll down exclusive Rodeo Drive, the home of the most outrageously priced fashion boutiques, explore the astounding villas in Beverly Hills and Malibu, watch a basketball match of the Los Angeles Lakers and visit the seaside towns of Santa Monica and Venice Beach. In walking distance from each other, they seem like two unequal twins – Santa Monica's beautiful beach and colorful pier with several carousels offer family fun and its flashy malls attract shopping enthusiasts while Venice Beach gets alive with bicyclists, surfers, weightlifters, bikini-clad inline-skaters, and tourists who come to look at the many artisan shops, devotees of body-piercing and street musicians and performers. This is where "Baywatch" was filmed and I find myself half expecting Pamela Anderson walking across the street.
Los Angeles is a city of dreams and a city for dreamers – nowhere else the American dream seems to be alive as much as here – such as Jose's, a young Mexican who works as cleaner in the hotel where I am staying and hopes to make enough money here to start a business back home; or Ole's, a young actor from Finland who has come here with his dream of being discovered in Hollywood.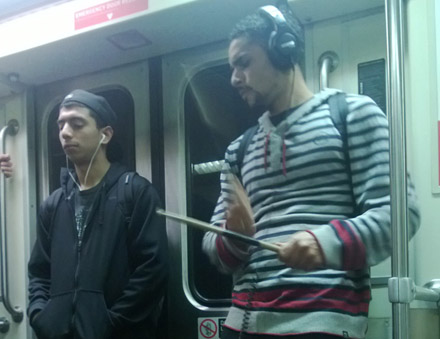 LA is also a city of eccentrics - the weirder and louder the better and nobody seems to care about what other people think: young guys in the metro listening to hip hop music on their phones at maximum volume and completely ignoring the elderly lady next to them, someone beating animatedly with his drumsticks on imaginary drums, people on the street suddenly breaking into loud rapping and recording their ingenuity with their smart phones, a man with a short purple dress, a tight purple shirt, purple sunglasses and a pink handbag sitting next to a smartly dressed businessman on the bus, self-proclaimed preachers with speakers on their back turning the metro into a church service! Live and let live appears to be the mantra here…
The contrasts in Los Angeles are striking – a melting pot of cultures where almost all signs are written in both English and Spanish, where the city center is right next to China Town, Little Korea and Little Japan, where obesity meets fitness craze and where wealth is unashamedly displayed close to heart rendering poverty. I am surprised about the many beggars all over Los Angeles who constantly and rather aggressively ask for money or cigarettes.
Finally, two days later I am informed that Pele is ready to be picked up and I am thrilled to have him back, more than 3 weeks after waving good bye to him in Japan! Nevertheless, I am shocked – in the advanced United States of America, it takes Customs take a staggering 7 days to release Pele, in part due to all kind of security checks to curb terrorism. I remember being frustrated about the 1-2 days it took me to get Pele back in Oman and Iran after he arrived on a ship there. Comparing this to the 7 days in the US, Customs and Security Clearance in Oman and Iran look like beacons of efficiency!
On a beautiful sunny morning, I am leaving Los Angeles for the Mexican border. As I am driving out, I marvel and feel horrified in equal measure by the 8 lane highway – this means 16 lanes taken the two sides of the road together! This tarmac carpet leads out of the largest urban metropolitan area in the world right into the desert and a couple of hours later, I pass a through a small mining town which is completely derelict and feels like a ghost town, with wind howling and blowing sand across the street, only a shell remaining of the abandoned petrol station pumps and a faded sign saying "Desert Café" squeaking above an empty and dilapidated building.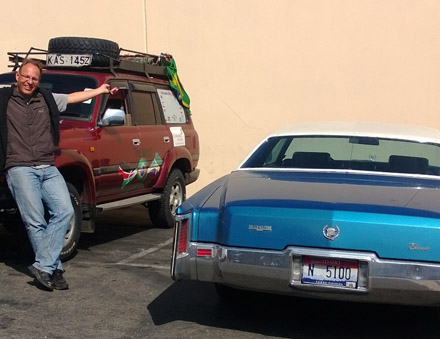 The second part of our journey has begun – 19,000 km from LA to Rio de Janeiro, and only a bit more than 2 months until the start of the World Cup. I am planning to cross Mexico in 6 days from North to South, a drive of roughly 4,000 km. Everyone I have talked to has been warning me about travelling in Mexico - the security situation there seems to be pretty precarious, with drug cartels being out of control. I hope that all will go well!