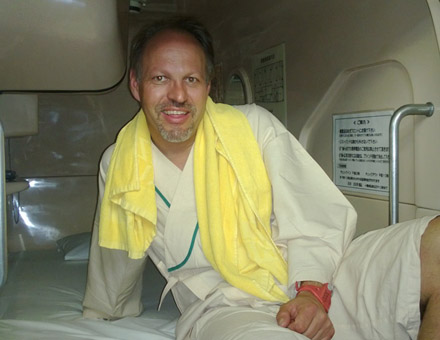 You either love it or hate it – the experience at one of Tokyo's Capsule Hotels. We had heard about this unique form of lodging and decided to give it a try.
Shinjuku! Tokyo's most happening place that never sleeps, with a mad energy, bold neon signs glaring from each building and touts from bars and other establishments constantly approaching us. Located right in the heart of Shinjuku, it feels like entering another world as we are stepping into the Capsule Hotel's entrance hall. We are asked to take our shoes off and put them into a locker before heading to the reception desk. Check-in entails trading the shoe locker key for a towel, a pair of pyjamas and a wrist band with another key and a number and barcode on it. This key is for a clothes locker where we change into our hotel pyjamas – now we look like everyone else here and are ready to explore the Capsule Hotel.
Where can we have a shower? We realize that we need to throw modesty to the wolves when we enter the spa area where 10-15 Japanese men are stark naked as they are enjoying the pools and sauna. A little confronting, but this is the traditional Japanese way. The hotel is strictly gender segregated and part of its objective seems to be to get men off the streets, by offering them a simple but comfortable and affordable place to spend the night. There is no curfew, you can come and go as you want, but that involves getting changed, handing in your wristband to get your shoe locker key, and settling any money owed each time. Effort! And when you can swipe your wrist over a vending machine you are already in the future, so why go anywhere?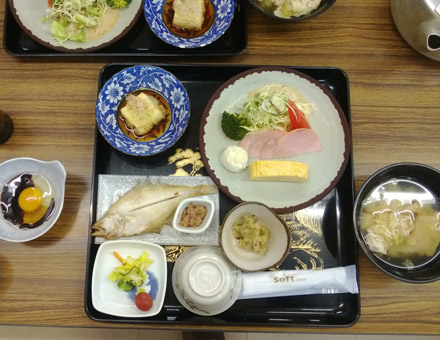 The floor above has a restaurant and a massage area with at least a dozen massage chairs and beds lined up next to each other. It is the middle of the night, 2am, but the place is hiving with activity. I am tired from the long drive to Tokyo and decide to pamper myself and have a massage. Within a couple of minutes, I am fast asleep and only wake up when the therapist tabs on my shoulder an hour later to let me know that the massage is over. High time to go to sleep. I look for my capsule and get lost in seemingly endless corridors with pods stacked-up in two levels – it looks a bit like a morgue. Finally, I find the capsule with the number that matches that on my wrist band: climbing inside gives me a bit of a creepy feeling as it is only slightly larger than a coffin – this is certainly not the right place for someone with claustrophobia!
In spite of the snores coming from left, right and below, I sleep very well. The next morning, I have become a Capsule Hotel expert – I swipe my wrist band over the vending machine for a coffee and a traditional Japanese breakfast. This, however, comes as a bit of a shock – instead of bread and jam, we are served steamed rice, miso soup, spicy omelet, dried seaweed, pickles and a smallgrilled fish – the latter seems to be looking at me from its plate throughout the breakfast with reproachful eyes and I can't stomach trying it.
Memorable and unique as it is, one night in the Capsule Hotel is enough for us – we decide to spend the next night in a conventional hotel and enjoy the privacy and space of a proper room.
Exploring Tokyo, we get a glimpse of its enormous contrasts. Moving around on packed commuter trains, we visit Senso-ji, Tokyo's oldest Buddhist temple and observe thousands of visitors and pilgrims thronging its halls and courtyards. Less than a kilometer away is the Tokyo Skytree, with 634 meters the second tallest structure in the world after Dubai's Burj Khalifa. Memories of our time in Dubai just after Christmas float through my head as we are taking the elevator to the viewing platform from where we have a jaw-dropping 360 degree view of Tokyo and the Pacific Ocean. A section of glass flooring even gives a direct downward view of the streets below! As the sun sets, Mt Fuji emerges from the clouds in the distance and the lights in hundreds of skyscrapers around the cityappear and illuminate the evening sky – it looks magical!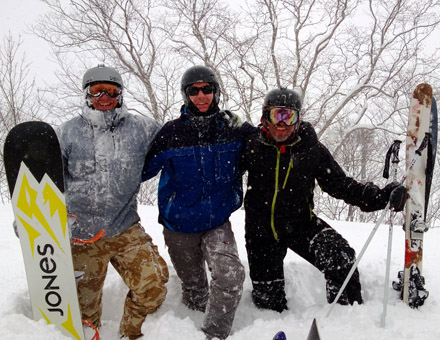 As Pele is on his way to the US in a container ship, we are car-less and take the famous Shinkansen bullet train to Hokkaido, 1000 km north of Tokyo. Not having to drive feels like being on a holiday and I enjoy Japanese towns, fields and hills passing by as the train makes its way north with an incredible speed of up to 300 kilometers per hour. Travelling with public transport gives us an opportunity to observe the people and I am intrigued. Silence and politeness reigns – no one manifests this more impressively than the train conductor. As he enters our carriage, he takes off his hat, bows, introduces himself, wishes us a good morning and only then moves through the carriage to check tickets, constantly displaying a shy and polite smile. Couldn't Japan Railways send some of their conductors to Kenya to train Nairobi Matatu touts?
We are heading to a small village called Niseko, a mekka for skiers and snowboarders, famous for receiving the world's fluffiest powder snow. For a week, we experience this first hand and every morning, we have almost half a meter of fresh powder snow - skiing & snowboarding can't get better than this!


Finally, we receive the news that Pele's container vessel is about to arrive in Los Angeles - it took 11 days to cross the Pacific Ocean from Japan. The unresolved question is how long US Customs will take to release Pele. I am told that this can be anything from 3 to 10 days, depending on whether Customs decide to subject Pele to some form of examination. I dearly hope that it will be less than 5 days as otherwise we will face a significant delay in our journey and struggle to make it to Brazil for the start of the World Cup. I am boarding the plane to the US, sensing some anxiety whether we will make it to Brazil in time, but being grateful for having made it so far and looking forward to the second part of our journey through the Americas.