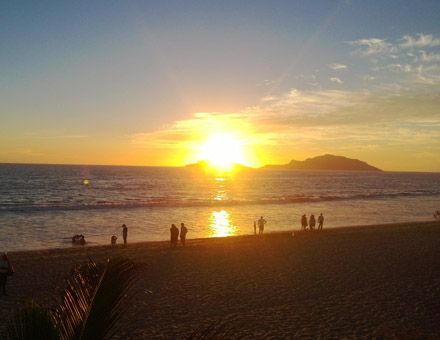 The early morning light sends rays of silver through the forest canopy, furtive monkeys shriek and catapult themselves through the treetops while countless birds give a dazzling early morning concert. As I walk past a partially overgrown temple, the dense vegetation suddenly peels away to reveal magnificent pyramids in a sublime view. I feel as if I am part of the cast in an Indiana Jones movie, looking for a lost treasure in the jungle.
I am wandering the mazelike palace and gaze at its iconic tower, climb the incredibly steep staircase to the top of one of the pyramids and enjoy the view of the sprawling ruins rising above the jungle treetops. These are the soaring jungle-swathed Maya temples of Palenque, located at the precise point where the first hills rise out of the steaming Mexican Gulf coast plain and one of the most striking examples of Mayan architecture, mysteriously abandoned more than 1000 years ago.
I am mesmerized by the view and as I imagine how this place was built by an ancient and highly developed civilization my thoughts drift to the experiences of the last week. It has taken me 6 days to cross Mexico from North to South, a journey of almost 4,000 km, by far not enough time for this wonderful country which has surprised me in many ways - ancient civilizations, awe-inspiring ruins, quaint yet vibrant colonial towns, stunning beaches, dense jungles, cactus-dotted deserts, snow-capped volcanoes, tasty food and friendly people.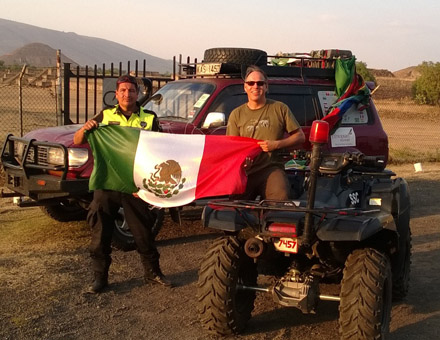 When arriving at the US-Mexican border, I was shocked to realize that there is a border wall that divides the two countries. The border town of Nogales is a divided town, with the wall going right through it. This wall is part of the US efforts to curb drug trafficking and illegal border crossings from Mexico and it makes me feel like being in Berlin before the wall that separated the two Germanys came down in 1989. Not surprisingly, people on the Mexican side feel discriminated by the wall and see it as a visible sign that they are not welcome in the US.
Leaving the US is very easy – I drive Pele up to some US immigration and customs agents who wave me through. Suddenly I am facing Mexican border staff and realize that I have left the US without getting an exit stamp into my passport. It is too late to go back and I hope that this will not result in my name being included in some illegal immigration black list…
Entry into Mexico takes about an hour as various formalities need to be completed: a tourist permit, vehicle insurance and a temporary import permit for Pele. I remember the excruciating border crossings in Central Asia where no one spoke English and immigration and customs forms were in Arab or Cyrillic letters. Compared to these, entering Mexico is a breeze and it is nice to be able to communicate with the border staff in their language. Like many Mexican border areas, Nogales is notorious drug country and I wouldn't want to spend a night here, but during daylight it feels safe and people are very friendly, many honk and give me a thumbs up sign, some stop and ask me where I come from and where I am going. They are amazed to see a right-hand-drive-vehicle which doesn't exist in the Americas - one startled Mexican even tells me that he thought that Pele was moving towards him without a driver.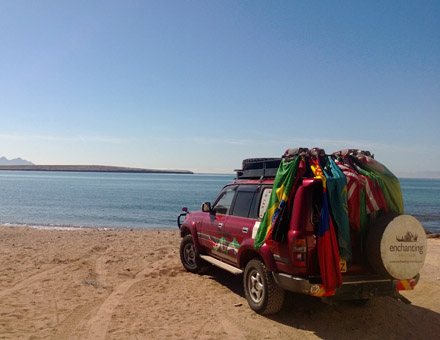 I buy some Tacos from a street vendor and start the long drive south. Just after sunset, I reach the Pacific coast at San Carlos and end the day with delicious Tortillas and a chat with some old men at a small café. The next morning is bright and sunny and there are great views of the striking twin peaks rising straight out of the Pacific Ocean. I enjoy a morning swim - the water is significantly warmer than in Los Angeles - and then head further south along the Pacific coast.
At nightfall, I am still a couple of hundred kilometers away from where I wanted to be tonight. I have been warned never to drive at night in Mexico and therefore, I look for a place to sleep and end up spending the night in a Love Motel. As it turns out, rooms here are typically rented with a specific purpose for four, six or eight hours and come with a Jacuzzi, fancy mirrors and an ensuite garage to ensure absolute discretion. As it is a Tuesday when the Love Motel apparently is in low demand, there is a special offer which allows me to spend a whooping twelve hours for the price normally charged for six hours. After the long day drive, I have a great night sleep which is not affected in the slightest by the mirrors above and around the bed…
The next day, I reach the town of Mazatlan which is quite unique – a historic colonial town right on a 20 kilometer crescent of tropical beach. I enjoy a spectacular sunset over the Pacific Ocean sipping a Mojito at a beach bar. Suddenly, I see someone standing on top of a cliff above the sea, holding a torch in his hand. 15 Meters below, the waves are pounding the rocky shoreline. A crowd is gathering and with some alarm it dawns on me that the man is about to jump down from the cliff into the sea. He is one of the famous Mexican cliff divers who risk their lives with each jump. The depth of the water below the cliff is less than a meter unless a wave rolls in. Thus, he has to jump just at the moment when a wave hits the shore. Doing this strikes me almost like playing roulette with your life and I am holding my breath when he finally jumps. He has timed the jump well and hits the surface just as the wave comes in. I am relieved when I see him reappearing above the water, seemingly unhurt.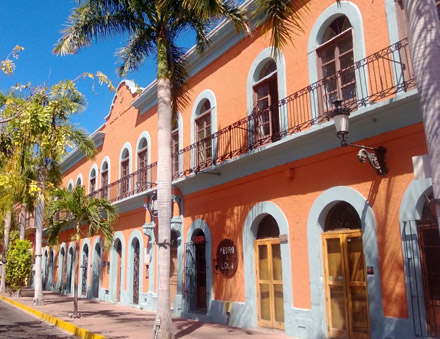 A highlight of my journey through Mexico is the incredibly vibrant city of Puebla. Walking through the historic center with its beautiful colonial architecture, there is life music from every corner. I am passing a small tavern from where I hear guitar music. Entering it, I see an elderly man sitting at the bar, playing a Mexican song on his guitar and singing beautifully. A couple sits next to him at the bar and sings along animatedly. It is such melodic music and a joyful atmosphere that I decide to join them for some time - one of the happiest moments during the entire trip!
Walking on, I pass an elderly woman at a corner magazine stand listening to rock'n'roll music. I observe her for a while and notice that whenever she doesn't have a customer, she enthusiastically sings along the chorus "big wheels keep on turning …" and gently rocks her head as if she was attending a live concert. For a moment, I sit on the central square and take in the sight of the huge cathedral before walking back to my hotel – on the way, I pass the old lady again, still gently rocking her head and listening to the same song.
As I am driving through Mexico, I frequently pass heavily armed police posts and sometimes they flag me down. So far, my encounters with the Mexican police have been very pleasant. Yesterday, I had two of these. Raul, the first police man stops me for overtaking another car Nairobi style, i.e. on the curb. Luckily, when he has a closer look at Pele, he soon forgets about my delinquent act and instead asks lots of questions about our trip and about Africa. It turns out that his dream is to go on safari to Africa some day!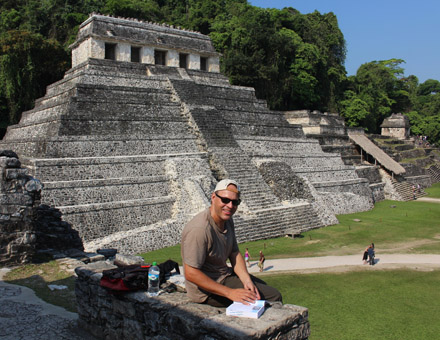 In the afternoon, Pele's exhaust starts to make strange noises and I stop at a police post at the road side to ask for directions to a local mechanic. The police man introduces himself as Juan Carlos and turns out to be the most helpful and cheerful police man I have ever met. He not only points me into the right direction, but actually leads me on his quad bike to a local mechanic who checks Pele and tells us that we need a specific spare part from another shop in town. Next thing I know, I am sitting on the back of Juan Carlos' quad bike and he takes me around town to various car accessories shops in search of the eminent spare part. In doing so, he cheerfully breaks three of the four rules that are graphically displayed on the quad bike panel: 1. no passengers! 2. Keep off highways! 3. wear a helmet! These are my reflections as I am sitting on top of the mysterious temple, feeling awed by the beauty of the lost world of the Maya. As much as I would like to linger on, I have to continue the journey to Central America. Mexico has blown my preconceived ideas of what it would be like and I hope to go back there someday with more time to explore.