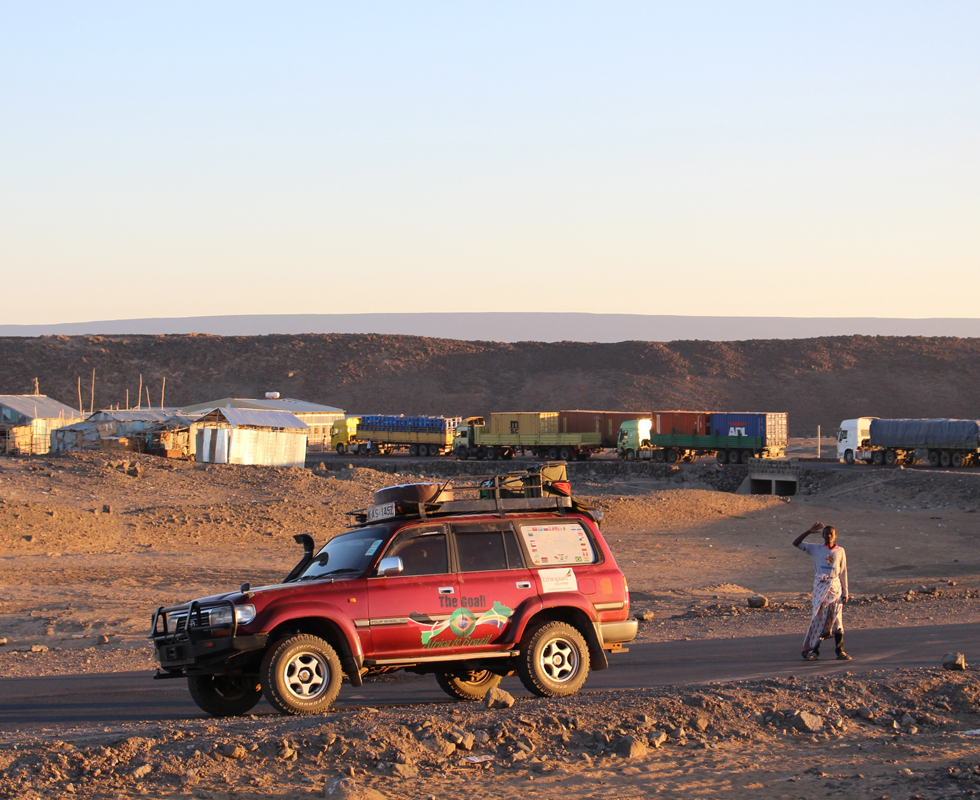 It is 4am in the morning, after several hours of driving through the solitude of the night, I decide to stop and stretch my legs. I am on day 12 of our journey from Africa to Brazil and 16 hours ago, I left Addis Ababa, with the goal of covering the almost 1000km of road in less than 20 hours and reaching Djibouti by 8am in the morning. The reason for this rush is that I would like to ship our expedition vehicle from Djibouti to Salalah in Southern Oman on a container vessel which will depart from Djibouti in two days. I have been told that it will take minimum two days – more likely three or even four days – to complete all customs formalities, secure the vehicle in a container and load this into the ship. Thus, the only slimmer of hope to get the car onto this container ship is to reach Djibouti port 4 hours from now. If I don't make it, I will have to wait for at least one week until the next ship departs for Salalah, not a pleasant outlook given that we are on a fairly tight schedule if we want to make it to Brazil by the start of next year's World Cup in June.
The constant subconscious question - "will I make it on time to Djibouti?" – gives this drive a particular edge and it feels like the entire journey and our goal of making it to Brazil for the World Cup rolled into one night. I knew that I would not be able to sleep more than a couple of hours tonight to make it - after driving for almost 10 hours, I stopped at a tiny roadside village and in the company of some truck drivers had my last meal of Injera, the slightly spongy traditional Ethiopian flatbread, and Shiro, a delicious stew made out of chickpeas, before falling into a dreamless exhausted sleep in the modest roadside guesthouse. Three hours later, my alarm clock rings mercilessly, and urges me on for the final 400km of the road to Djibouti.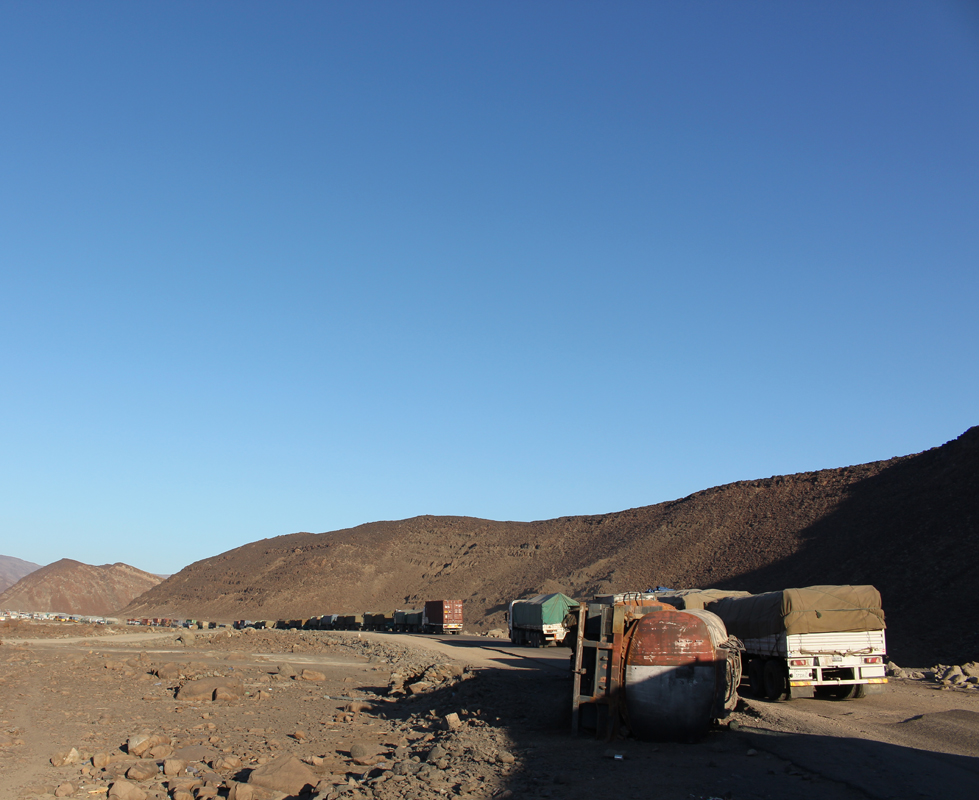 Standing here alone under the stars is such a mind blowing contrast to the buzz of Addis Ababa which we experienced over the last couple of days. After our encounters with the tribes people of Southern Ethiopia, we made our way to Addis where the journey ended for several of our team members who flew back to Nairobi, thanks to the support from our partner Ethiopian Airlines. My next travel companions will join the journey in Oman, and so I am alone for this section of the trip from Addis to Djibouti.
Now that I am gazing with awe at the incredibly clear stars, with no artificial light in sight, I feel a beautiful sense of freedom. I reflect about the almost 3 years of preparation that have gone into making this trip happen - it is moments like this which I was picturing in my mind when spending late nights thinking through possible routes and researching travel advisories, visa requirements, climate tables and ferry connections. Many other thoughts pass through my head, and I am deeply grateful for being on this journey.
Before I get lost in these thoughts, I remember that I want to be in Djibouti City in 4 hours and still have 250km to go and I move on – the car seems to glide through the night on the smooth tarmac, I haven't met another vehicle for almost an hour and the fresh breeze from the open windows helps to keep me awake, together with the song "Africa" from Toto which is emerging as our journey's anthem.
An hour later, I am passing a long line of trucks parked on either side of the road which should make me alert but after driving for 15 hours, my brain seems to have switched off all non-essential thinking cells and so I drive on, heading towards the first morning light which starts to paint the horizon in a faint orange. A couple of kilometers later, I suddenly see a road sign reading "Douane" against the now glowing red morning sky and for a moment, I am confused as I wasn't aware that Ethiopia is a French speaking country. Driving on, I all of a sudden hear a thundering "Arrête!" and with this I finally realize that I must have unintentionally passed the Ethiopian border post and crossed into Djibouti.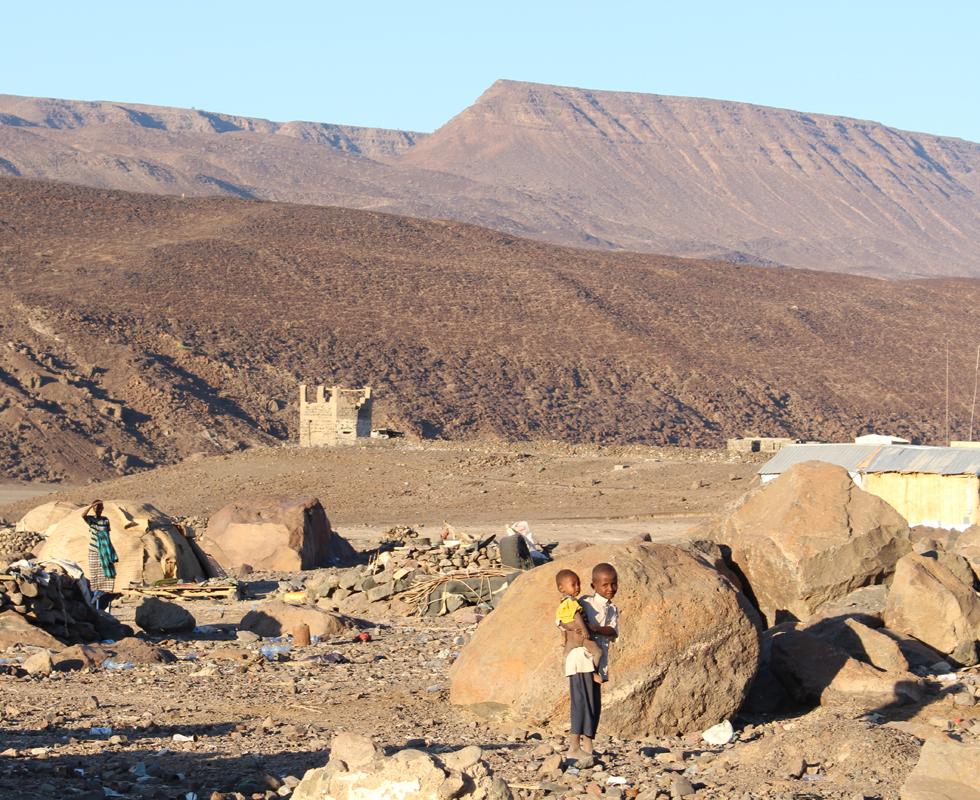 With their Kalashnikovs slightly raised, two soldiers emerge from the darkness and leave no doubt that they expect me to stop. Next, they quiz me about what I am doing here at this time when both the Ethiopian and Djibouti border posts are closed until 6am. I have to force my brain out of its hibernation and try to make sense of what they say and ask in French. A couple of minutes later, I am on my way back to the Ethiopian border post, where the quizzing starts afresh, luckily in English this time. The officer in charge makes it unmistakably clear that I should consider myself lucky that the border guards didn't open fire on my car when they saw me drive past their post in darkness an hour earlier. After responding to his questions and showing him my passport, the officer seems to reach the conclusion that no terrorist in their right mind would drive past their border post with headlights beaming in the middle of the night. Therefore, I am treated to another dose of Ethiopian border bureaucracy – it is difficult to believe how many stamps are necessary until finally I receive permission to leave the country and head on to Djibouti.
The Djiboutian border officials are much faster and soon I am on the road again for the last 200km to Djibouti City. Now the sun is up and I can see the striking scenery around me – it looks like a lunar landscape, with randomly placed volcanic rocks on a flat salt pan, surrounded by towering mountain ranges. In the first golden morning light, this is truly a breathtaking sight!
I was hoping for some well maintained highways in Djibouti as well, but the road resembles more a crater landscape and my hopes to make it on time to catch the container ship in two days are dwindling rapidly. It is past 10am when I finally cross the crest of a hill and see ahead of me Djibouti City and the Gulf of Aden shimmering in the morning sun. Anxiously I am driving onwards, grateful for having safely concluded this long and tiring but inspiring journey through the night, and wondering whether I am still on time to make the container vessel departing two days from now …