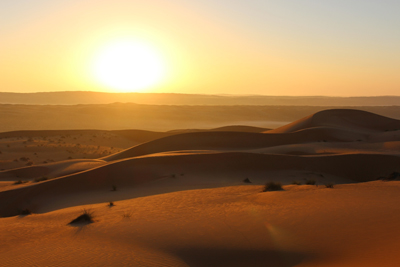 The sand under our feet feels surprisingly cold as we are scaling the last meters to the highest dune as the first morning light paints increasingly bright shades of cream, orange and purple on the horizon. Moments later, just as we settle on the crest of the dune, a giant golden and scarlet sun edges above the seemingly endless dunes. Suddenly, we are bathed in a warm golden light while the base of the dunes far below are still covered in the morning mist which greeted us one hour ago when we woke up to a chilly desert morning.
Now that we feel the gentle rays of the sun and the sea of wave like dunes all around us take on an unreal orange-cinnamon color, I feel grateful for being here and witnessing the beauty of the awakening desert. I am looking at my travel companions and the mischievous smile in their faces tells me that they have the same thought as me – Dune Jumping! The steep sides of the dunes and the soft landing below are just too tempting - so we take turns sprinting to the edge of the dune and catapulting ourselves as far as possible down its flanks, each time landing in the soft sea of sand below - with a bright smile, an occasional squeal of joy and the gratifying sensation of doing something utterly silly!
After breakfast, we head back into the dunes for some Dune Bashing, a favorite pastime among Omanis and one for which we will certainly not win an ecotourism award – looking at some windblown tracks, we can't believe that it is possible to drive down the nearly vertical dunes but after a first cautious try, we gain confidence, and our drive across the dunes gradually turns into a lunatic desert Formula 1 race.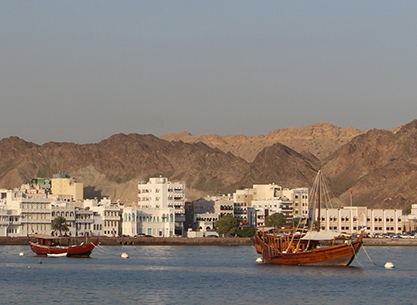 Our first impression of Oman was truly enchanting and set the tone for our time here - coming from Muscat airport after an overnight flight, we reached the capital's sea front at the crack of dawn. Cragged mountain peaks emerged mysteriously in the first light of day as the reflections of the scenically lit waterfront and the dramatic fortress danced in the calmly swaying ocean. We were so mesmerized that we ignored our severe sleep deficit and explored the awakening capital city as the rising sun cast shadows across the serrated crescent of mountains behind the narrow strip of land on which old Muscat is built. After breakfast which consisted of Shawarma and delicious freshly squeezed fruit juices, we headed for the Souk where any imaginable good seems to be on offer including wedding chests, traditional carved daggers and such vital items as camels with illuminated humps and kitsch mosque alarm clocks. The shops selling carpets, clothes, a dazzling array of incense, delicious kebabs and fruit juices turn a stroll here into a feast for all senses. Eventually, we succumbed to the polite but relentless sales pitches and turned into veritable Omanis, clad in a Dishdasha, the national shirt dress, and a Kofya, the hat worn by every Omani man.
Hardly any country I know offers such varied travel experiences as Oman where you can feel like travelling between different hemispheres on the same day- yesterday, we started our day with a morning walk through the quaint fishing village of Ayjah enjoying the picturesque white-washed merchant houses with elaborately carved doors and latticed balconies. A short drive brings us to Wadi Shab, aptly named in Arabic the "gorge between cliffs" with terraced plantations, a cascading river and sparkling turquoise pools which offers a fantastic opportunity for cooling off in the heat of the day. Swimming through a "keyhole" into a partially submerged cave with a waterfall feels like entering a secluded world of thrilling fantasy. Following our inclination for adventurous folly, we even climb up on the side the waterfall and plunge from the edge of the cliff above into the void – an amazing experience which I will never forget!
As the heat of the day fades, we continue our journey and make it to our camp deep in the Sharqiya Sands desert just before a stunning sunset - it looks as if the desert swallows the sun and soon after it gives rise to an incredibly clear desert night sky with zillions of stars. After a delicious dinner we sample Omani coffee and dates at the open camp fire before lounging on a sofa enjoying the Sheesha, telling tales just like the local Bedouin and gradually drifting into sleep as we gaze at the stars above.
Two days later, we find ourselves uttering timid prayers as we negotiate the dramatic mountain roads across the Hajar Mountains which straddle the entire north of Oman. We first got awed by them when we explored the beautifully restored fortresses of the former capitals Nizwa and Jabrin at their base and got a closer view during a relaxed afternoon at Jebel Shams, the highest mountain in Oman, which due to its spectacular vertical cliffs of more than 1000 meters is known locally as the Grand Canyon of Arabia. Today, we decided to cross the mountain range and even Kenyan roads haven't prepared me for what we experience here - there is nothing between us and a plunge into the abyss!
An hour later, the worst seems over – a premature sense of relief as we will later find out – as we are reaching the beautiful village of Bilad Sayt. We are enjoying the picture postcard views of its terraced fields and sun-baked houses as our path winds and bumps through date plantations where palms reach to the sky and bananas grow in profusion.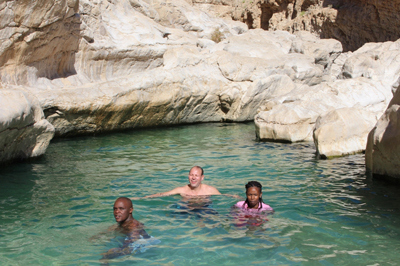 Oman has exceeded our wildest expectations - we have fallen in love with this wonderful country, its colorful atmospheric souks, ancient fortresses, striking mountains with crystal clear pools, endless beaches, magic desert nights and friendly people. Whenever we had encounters with the Omani people, we found them to be very polite and helpful. Several times when stopping at the roadside asking for directions, men would jump into their cars and drive ahead of us for several kilometers to show us the way. I can't remember such kindness in any other country I have visited. I am wondering to what extent my decision to make the Dishdasha and Kofya my personal national dress has contributed to this. Frequently, local men approach me and ask me with amiable curiosity where I am from - once I am even asked where in Yemen I come from! I find the Dishdasha extremely comfortable - in hot weather it keeps me cool and in chilly weather it keeps me warm - and the pride with which the Omani wear it make me ponder that it would be nice if Kenyans had a similar unifying national dress.
Beyond the beauty of its tourist attractions, Oman is a very interesting country to study as it seems to have navigated well the tricky path between being true to its historic roots and values while embracing modern life. Muscat, the capital, is a striking contrast to its neighbor Dubai – there are no high rises and steel glassy facades and instead, the white and cream colored houses in downtown Muscat create the ambiance of a super sized desert oasis.
Oman is a phenomenal success story – before Sultan Qaboos, its current ruler, ascended the throne in a bloodless coup in 1970, Oman had no secondary and only two primary schools and a meager 10km of tarmac roads. Since then, he has steered the country towards prosperity and in spite of only limited oil revenues, the standard of living in Oman today is comparable to that of several European countries. The government has put in place an impressive infrastructure with fantastic roads, provides free health care and housing allowances to its citizens and with few exceptions does not levy any taxes.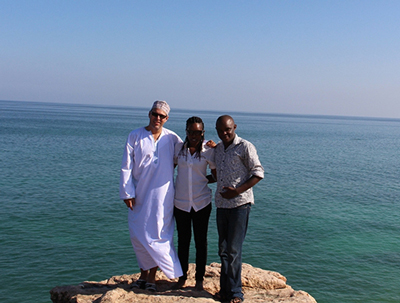 The cost of 1 liter petrol is the equivalent of 25 KSH as there are no taxes on fuel. As a result, each Omani household has several cars and on Muscat's Qurm beach front drive, their wealth becomes visible at night as they drive their Landcruisers, Ferraris and Lamborghinis up and down the seafront. Still, even Oman faces challenges – professional skills among Omani citizens are limited and while there is a high unemployment rate, Oman requires foreign professionals and many local companies are managed by mainly Indian expatriates.
On December 20, day 28 of our journey, we finally make our way to Salalah in Southern Oman where at last the container ship carrying our expedition vehicle from Djibouti arrives. It is running almost a week late and I am anxious to get Pele, our Landcruiser, back and start the journey to Dubai where we plan to meet another team member and spend Christmas. However, as today is Friday, the start of the weekend in Oman, we will have to wait for 2 days until we can retrieve the car, and the prospect of driving the 1350km from Salalah to Dubai in 1-2 days becomes daunting. Yet, this is precisely the uncertainty that makes a journey like ours the adventure I was looking forward to and I am curious how this coming Christmas week will unfold.