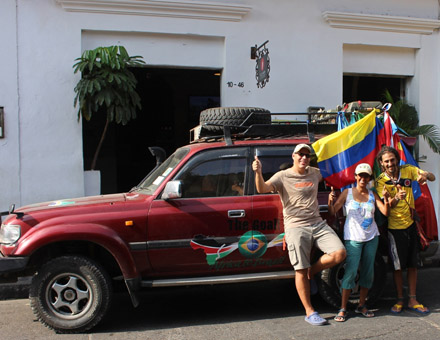 6am, the sun is just rising above the beautiful town of Cartagena in northern Colombia – more than 33,000km and 166 days after our start in Nairobi, we are setting out for the last part of our journey, crossing South America – we still have a 10,000km drive ahead to Rio de Janeiro and only 35 days until the start of the World Cup.
It took us a nail-biting four days to get Pele back out of Colombian customs, with repeated delays. Luckily, there could be no better place to hang out while waiting than Cartagena, a fairytale city with cobbled alleys, enormous balconies shrouded in bougainvilleas and massive churches casting their shadow across leafy plazas. While it is stiflingly hot during the day, we enjoy the fresh breeze from the ocean in the late afternoon and stroll around the old town getting lost in the maze of streets and plazas. Almost every street in the old town is a picture postcard motive of 16th and 17th century colonial architecture and the streets are buzzing with school kids and people shopping after work. We try out Colombian street food – filled maize tortillas, cheese balls, meat skewers, fresh fruits and fruit juices. As we amble over the massive city walls, we are joined by countless young couples who like us enjoy the breeze and the great views. After a dinner of Ceviche, a spicy dish made of raw fish, we sample delicious cocktails on a leafy balcony overlooking a quaint plaza listening to Salsa music - a groovy end to the day.
One afternoon, we visit the Castillo de San Felipe, the greatest fortress constructed by the Spanish in any of their colonies. The security guards seem to have forgotten us and so we are able to enjoy a spectacular sunset over the Pacific Ocean from the highest point of the castle. The buzz of Cartagena seems a world away and the emerging city lights far below create a deep sense of peace and gratitude in me.
On our last day in Cartagena, we have a chance encounter with Fernando, a Brazilian artist who has been travelling around the world for the last 14 years! He calls himself a "student of life", looks like a bit like the pirate of the Caribbean Jack Sparrow and is incredibly cheerful. Like us, he is on his way to the World Cup in Brazil and asks us if we can give him a ride. As there is space in Pele, we say yes.
"You are going to Columbia? Be careful, its drug country!" We frequently hear this warning and Columbia has the dubious distinction of being the world's leading coca producer. It faces an on-going conflict between rival paramilitary groups, guerillas and drug cartels, fighting each other to increase their influence and against the government that struggles to curb their influence. Columbians themselves often caution us to take extra care. The risk is real - some parts of the country are off-limits and we are planning our route to avoid these.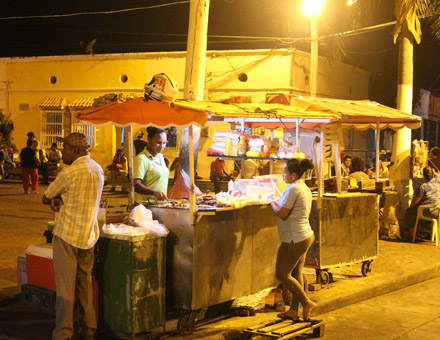 After a stunning three day drive through lush tropical rainforest with raging rivers, striking mountain scenery and quaint colonial towns, we arrive in Bogota, the country's gigantic capital. Officially, it has 7 Million inhabitants but nobody knows how many people really live here. So far, Colombians have been extremely helpful and genuinely happy that we are visiting their country. They literally go the extra mile, gently beckoning to us to follow them when we ask for directions and opening their homes to us with a welcoming "Mi casa es su casa". And so we spend an eventful two days in Bogota, seeing it through the eyes of our host Luca and his family. His father guides us through town and helps us understand why the majority of Columbians will shun the upcoming presidential elections, despite desiring a change of leadership. Most have lost their faith in corrupt politicians and believe that nothing will change. In stark contrast to Panama where we experienced election fever at every nook and corner, there is hardly a sign here that Colombia goes to the polls next weekend.
Unemployment, drug dealers, shocking crime rates, gang warfare, extremely high levels of under-aged pregnancies, hopelessness – this is the reality of "Altos de Cazuca", one of Bogota's most notorious slums. Around 200,000 people live here in shanty houses on a steep hill looking out towards Bogota's high rises in the distance. We are meeting Juan Carlos who has grown up here. He is 22 years old and tells us about his life – after completing secondary school, his dream is to study at a university. As a teenager, he was very shy and didn't feel comfortable to speak up. His life changed eight years ago when he came across an organization that calls itself "Tiempo de Juego" - Time to Play. Founded with the objective of getting kids in the slum away from the all too common path of being sucked into criminal activities, it aims to give them something meaningful and joyful to do in their past time. Currently, 800 kids from Altos de Cazuca who previously were mostly idle in the afternoons are trained to play football several times a week.
However, Tiempo de Juego is not a football or youth club like others – here, training kids to play football is only a means to the end of instilling clear values in them including respect, compassion, fair play, team work, gender equity, humble victory, dignified loss and tolerance. With this purpose, Tiempo de Juego has developed its own methodology and set of rules that deviate from standard football rules. As a start, girls and boys play together in mixed teams and in each match, girls have to score at least one goal – this rule intends to teach both genders respect for each other. Another rule is that players are supposed to interrupt the match when another player falls and help him or her to get up. Self reflection is a crucial character trait for Tiempo de Juego. To build this ability, members of both teams evaluate themselves and the other team along the key values after each match. They openly discuss these evaluations and it might well be that the team that has shot fewer goals still wins if it scores higher on the key values.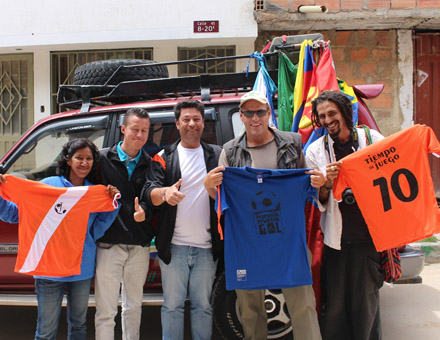 While it started out with football, Tiempo de Juego has broadened its activities. It now even offers theatre classes and has a music studio that was opened last month – since then, 70 local kids have started to regularly come for instrumental tuition and several of them have formed bands. To further instill its core values in the kids, it has started to cooperate with local schools which now incorporate these values as part of their curriculums.
One key element of the organization's philosophy is to make the initiative self sustaining through empowering the local community. In order to achieve this, youths who consistently demonstrate strong values are developed into coaches and mentors for younger kids. Juan Carlos has been one of these mentors for several years and in this role has developed leadership and communication skills that have enabled him to take on the responsibility of coordinating all football activities. He is proud of the impact on the lives of many of the kids – the small concrete field high up in Altos de Cazuca where in the past people would be found murdered in the mornings is now a place where kids cheerfully play football, crime rates have reduced and many of the kids he mentors have grown in confidence and have better results at school. He tells us excitedly that together with a group of kids from Colombia, he also will be travelling to the Football World Cup in Brazil, for a forum and tournament organized by FIFA for like-minded organizations from around the world.
Still, not all is well in Altos de Cazuca. Some suspicious looking youths are huddled close by and we are told to immediately leave. Even with our local escort we apparently are no longer safe here. So we jump into Pele and drive off. As we wave good bye to Juan Carlos, we feel inspired by him and by Tiempo de Juego, a great example of the positive impact that football can have on troubled communities, and look forward to meeting him again next month in Rio de Janeiro.