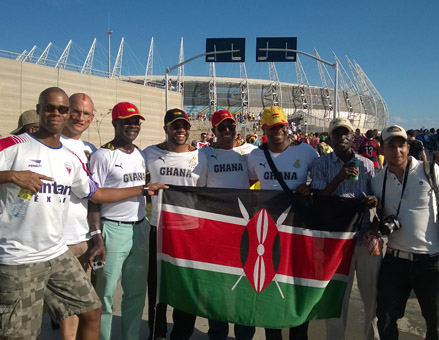 Late at night in the middle of nowhere in the Brazilian Northeast … we are on our way from Salvador to Fortaleza and decide to have a short break at a small roadside restaurant. As always, Pele's flags draw attention and as we are ordering some barbecued meat, we start chatting with some locals who enjoy a drink while watching the evening World Cup match. One of them turns out to be a local TV reporter and he asks us if we are willing to do an interview for the regional television station. Before we know it, we are facing the beaming light of a camera and answer his questions in hilarious Portuguese.
Brazil is a vast country and distances are huge – since crossing the border from Bolivia ten days ago, we have driven almost 5000km across Brazil, and we still have more than 500km to go to Fortaleza where Ghana and Germany will square off tomorrow. It is past 10pm when we continue our journey and drive on into the night. The sky is pitch black and there is hardly any traffic – Brazil seems to have gone to sleep. We are all the more surprised when an hour later we pass through a small village and suddenly see a floodlit arena packed with people next to the road. Intrigued and curious, we stop and inquire what this is about, and are told that this is a rodeo. We had already heard that rodeo is very popular and are delighted to have come across one of these. There crowd roars with excitement at one young man after another trying to stay as long as possible on the back of the fierce bulls.
After some time, we head on and it is past midnight when we decide to call it a day in a small town 250km from Fortaleza. The next morning, we drive on and reach Fortaleza a couple of hours before the football match. This gives us some time to search for accommodation, not an easy task given that thousands of football fans from around the world have descended on the city. We are lucky to find an apartment close to the beach. Fortaleza has glorious beaches backed by lavish skyscrapers. I remember it being a rather humble town when I visited last in 2001 – now the city looks like a smaller brother of Dubai, however, with far more lively beach action. Brazilians love their beaches and their iconic beach culture is as much alive in Fortaleza as it is on Copacabana – families having picknicks at the beach, young toned men artistically playing beach football and volleyball, equally toned women wearing bikinis that leave very little to imagination. And in between all these, there are football fans from all over the world, creating the ambiance of a truly global village.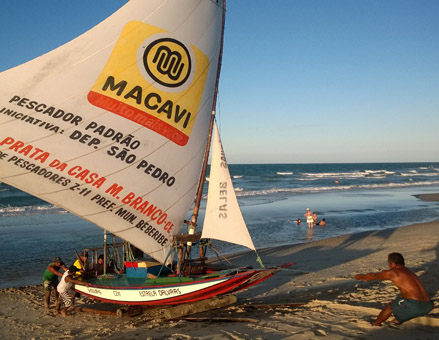 The Northeast of Brazil is heavily influenced by its African heritage and even the fishing boats have similar triangular sails as East African dhows. A big part of the population here has African roots. This is audible in the local music and rhythms and visible in the complexion of its people. Amimo and Jason, my two travel companions, are constantly asked to pose for pictures with locals who are excited to meet visitors from Africa. They always ask us where we come from, and some struggle to make sense of our answer "Kenya". Given that this is the day of the Ghanaian team playing here, they believe that we must be from Ghana. When we reiterate that we are not from Ghana but from Kenya, "Kenya" in their pronunciation is turned into "Ganya".
With the help of local Brazilian Boda Boda cyclists, we make it to the stadium just in time for the match between Germany and Ghana. And what an epic match it turns out to be! When Ghana scores its second goal and is on the brink of winning the match, the stadium erupts in joy and it becomes clear that the predominantly Brazilian crowd wants the African team to win the match. Brazil and Africa – at least on the surface this seems to be a love story.