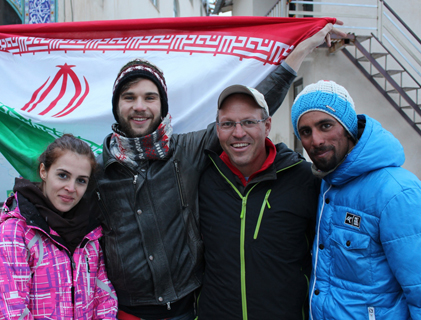 The last night in Iran and day 48 of our journey to Brazil - never before on this trip have I experienced the frustrations and joys of independent travel more than today. When I look up, I am facing the barrenness of my room that has been heated to almost sauna temperatures and at least I feel warm which was very different some hours ago.
I was planning to cross the border from Iran to Turkmenistan today but things turned out differently. The Badjgiran border is located in absolute No-Man's land, 80km from the last town on the Iranian side on a breathtaking road crossing several mountain ranges. I knew that the border would close at 3:30pm and I was rushing all day to reach it on time. However, the many police road blocks meant unexpected delays - each time, the policemen flagged me down and frequently, they decided that they needed to take copies of passport and car papers and of course, the printers didn't work which meant arduous waiting. I have copies of all key documents and offered them these but they declined – they needed to make their own copies! In spite of turning the last 80km to the border through the mountains into a rally drive, I only reached it at 3:35pm, five minutes too late, and the border guard greeted my exasperated expression with an indifferent "closed!" gesture.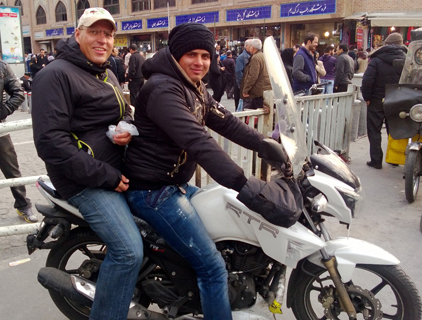 This second week in Iran has led me away from the anyway hardly trodden tourist path, with glimpses into life in Iran that are normally hidden from the visitors' eyes. In Teheran, I met young professionals wearing high heeled shoes and creating fashion statements with their hejabs (veils) who told me openly about their frustration with their government – they feel not being given a chance in life and embarrassed about their former president who in their eyes has shamed their country abroad. Many of them dream of studying and working elsewhere and ironically for most of them, the US tops the list of countries they would like to go to. When asked why, they respond that the US in their view stands for what they are missing in Iran – freedom and opportunities.
In the privacy of the home, many of Iran's conservative laws don't have any bearing – women don't wear hejabs and to my unbelieving surprise I was offered alcohol on both occasions when I was invited to a family home. The first time, my host even turned out to be a self-trained brewer and explained to me the secrets of brewing his excellent beer which I happily enjoyed after two tea-totalling weeks. He also told me about the severe punishments he would be facing if the authorities find out about his brewing activities, but this niche of freedom is worth the risk for him.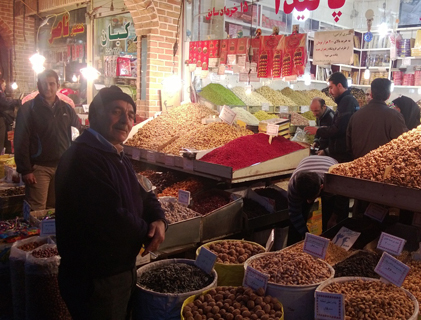 The Iranian government seeks to secure its power through handouts to the poor and less educated people. One of these handouts comes in the form of subsidized fuel. The cost per liter Diesel fuel in Iran is less than 5 Kenyan Shillings and filling up Pele with 90 liters of Diesel cost us the equivalent of around 400 Shillings – I feel indebted to Iran for sponsoring our journey from Africa to Brazil through providing virtually free fuel!
The downside of these subsidies, however, is that Iran tries to limit the fuel consumption of its citizens through rationing the supply. There are only few petrol stations with typically long queues and Diesel fuel is only available on the long distance roads outside cities. Twice, we ran so low on fuel that we were desperately looking for a petrol station that had Diesel. Both times, kind Iranians appeared out of nowhere to help us and even with their assistance, it took us 2 hours to find Diesel in Teheran.
Teheran is a gigantic city with almost 20 million inhabitants and probably the worst smog of any city in the world, created by the countless very old cars. Experiencing its maddening traffic jams in a taxi for a couple of minutes, I decided that the best way to explore Teheran is by motorbike – a memorable experience not for the faint hearted, especially when my motorbike taxi driver went against the chaotic traffic in a congested one way street … at breakneck speed!
Teheran's bazaar buzzes with energy and I spent hours wandering around and getting lost while taking in the sights, sounds, and smells, talking to the jovial bazaaris and enjoying the energy of the place. Nevertheless, I was relieved when I left Teheran and its smog after two days to go skiing in the mountains close by. Less than 50km from the city, Shemshak ski resort was a great surprise – we had a fantastic day skiing there with friendly Iranian skiing companions, fluffy snow, blue skies, beautiful views of the surrounding snow capped mountains – and Shesha! Our apple-flavored Shesha on the ski slopes over lunch in the sun was an incredibly relaxing experience which I will surely miss wherever I may ski in future!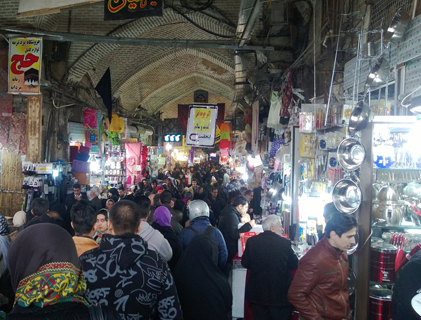 I look back at our time in Iran with a deep sense of gratitude for having had the chance to experience this wonderful country. Few countries have enchanted me as much as Iran – it has blown our preconceptions, its people are the friendliest and most welcoming I have met anywhere in the world, we always felt safe and there are virtually no other tourists. Iran is a country where trading caravans were common sights in the past, crossing mountains and deserts en route to towns that are as rich in history as they are in hospitality. Visiting Iran is one of the great cultural pilgrimages of our time and in my view there is no better time to visit Iran than right now – go and enjoy it!