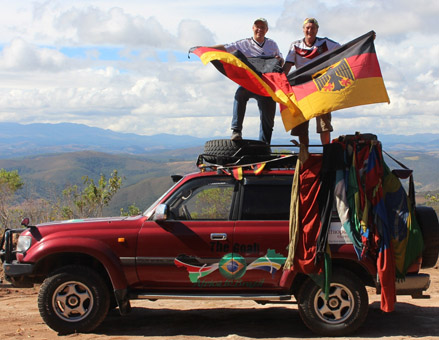 Ahead, the first light of the day paints the sky in a light grey, a relief after driving the last 12 hours through pitch black darkness. We are on our way to Rio de Janeiro, it is 5:30am and we have been driving through the night without a break for the last 24 hours to make it to Rio in time for the World Cup Quarter Final Germany vs. France. The only rest was a 45 minute "power nap" at the roadside and I feel totally exhausted.
We had planned to start from Salvador de Bahia early in the morning two days ago in order to have at least two full days for the long drive to Rio. When getting ready to leave Salvador, we are told that July 2nd is Bahia's Independence Day and that on this day the town erupts in festivities. Therefore, we decide to go for a short walk through Salvador's historic center to have a look at what's going on. Bands are playing at every corner, people are dressed up in fancy costumes and every person on the clogged cobble stone streets radiates a tremendous joy and pride. The culmination of the festivities is a procession through the old town and we are right in the middle of it on one of Salvador's picture postcard squares. What we experience here is simply mind blowing! Several drumming bands clad in different outfits have lined up next to each other. It is impossible to describe what it feels like to stand next to 200 fancily dressed drummers who are drumming their hearts out, as thousands of onlookers pressed close together are dancing passionately to the electrifying throbbing African-Brazilian rhythms. I have never in my entire life felt such a crazed wild energy!
I can't help comparing in my mind these joyful festivities with the stiff and listless Independence celebrations in Kenya. Kenya could learn from Brazil on how to celebrate and may be, we should invite some drumming bands from Bahia for Kenya's next Independence Day!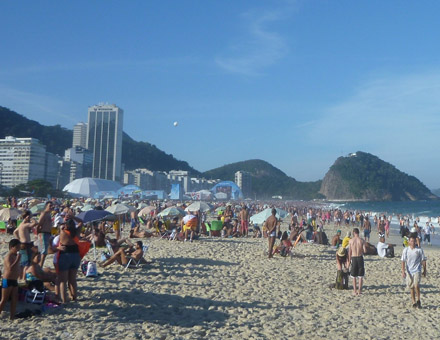 We are so excited that we completely lose track of time and instead of 8am in the morning we finally leave Salvador at 4pm in the afternoon. As it gets dark in Brazil around 5:30pm, this means that we essentially only have one instead of two days to cover the 1600km to Rio.
After 27 hours of almost non-stop driving, we finally see the famous Christ Statue appear in front of us – we have made it to Rio, just three hours before the match! Dog-tired, I am immediately heading to Maracana Stadium and my exhaustion is forgotten the moment I see it in front of me. It has been a dream of mine to watch a World Cup match in this iconic stadium.

Immediately after the France vs. Germany match, I take the metro to nearby Copacabana Beach to watch the Brazil vs. Colombia Quarter Final. More than a million enthusiastic Brazilians on Copacabana wildly celebrate their team's narrow victory - Rio de Janeiro is exploding in a yellow-green frenzy!
The next couple of days, we take it easy and explore Rio. With its white sandy beaches and the stunning backdrop of lush green mountains and granite rocks rising vertically out of the ocean, Rio to me is the most spectacular city in the world. What makes Rio truly unique is the life embracing joyfulness of its inhabitants. Even in the squalor of its slums, the Favelas, you can hear Samba music and laughter all day, but nowhere does this joy of life manifest itself more than on Copacabana Beach – strolling along Copacabana is like walking through a living theater of human expressions and creativity. Every 20 meters something different is happening: people playing beach football, beach volleyball, beach tennis, beach rugby … beach anything, hawkers tauting all kinds of street food and countless variations of the national drink Caipirinha, curio sales men and women offering their wares, artists painting and creating elaborate sand sculptures, people peacefully expressing their protest against FIFA and the corruption in their government, street comedians, drummers and other musicians performing to quickly gathering crowds. Between all this, men, women, boys and girls flagrantly display their toned and suntanned bodies on Copacabana Beach – this is where Brazil shows itself to the world!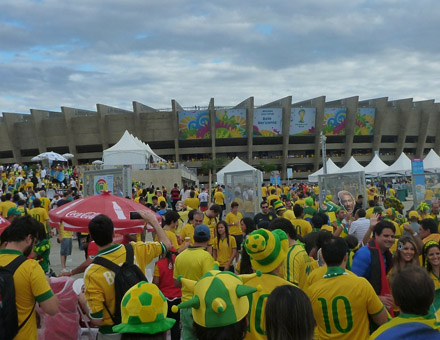 A couple of days later, we are on the road again, on our way to Belo Horizonte for the Semi-Final between Brazil and Germany. Pele is taking us on the last long drive of this journey, through beautiful green and hilly landscapes. When starting to plan a road journey from Africa to the Football World Cup in Brazil three years ago, I had a recurring day dream: attending a football match between Brazil and Germany. I couldn't imagine anything more exciting than this, and I am thrilled that now this dream is coming true.
And what a match it turns out to be! The atmosphere in the stadium before the match is all I had imagined it to be – boundless passion! When the Brazilian anthem is played, I feel goose bumps and shivers going down my spine. What happens afterwards is something I will never forget. I feel like being in a dream... after the 7th German goal, Brazilians all over the stadium suddenly turn to our small block of German football fans and openly applaud the German team, a previously unthinkable and moving gesture.
Brazil is such an amazing country with such wonderful people - when living here many years ago, I fell in love with Brazil's unique joy of and passion for life. As much as I am screaming my heart out and jump up and down in disbelieving delight after every goal, I feel a bit sad about what is happening here tonight. Brazil does not deserve this.