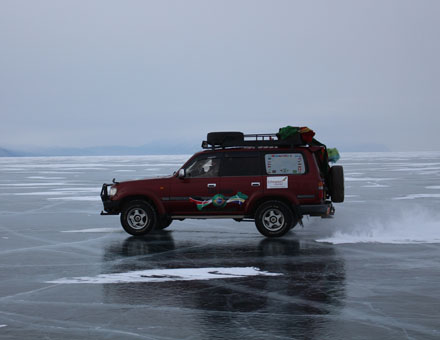 In front of us, a vast white expanse looms to the horizon. Our guide Alexander points straight ahead and with some anxiety, we move onto the ice. Finally, our dream comes true – we are driving Pele across frozen Lake Baikal, the deepest lake on earth containing one-fifth of our planet's unfrozen fresh water!
The lake surface is frozen like granite. Craggy ice floes shimmer in a deep blue, rising out of the lake like tectonic plates being crushed against each other by the currents. Simply mind blowing!
After a couple of kilometers, the coruscated ice becomes smoother and suddenly, it turns crystal clear which allows us to see through the marbled ice - an eerie feeling knowing that beneath the one meter thick ice with its countless cracks the water is several hundred meters deep. The kid in us takes over and we drive Pele at ever increasing speed over the black ice - making him slide in 360 degree pirouettes causes the stomach to churn but is an exhilarating feeling!
Driving on, the lake surface changes again and turns into a powder white, with 20-30 centimeters of soft snow covering the ice. These are the perfect conditions for making another dream come true – snowboarding on frozen Lake Baikal! We get our snowboard gear out, fix a 20 meter rope to the rear of Pele and attach a makeshift wooden handle to its end. It is freezing cold, -25°C, and without gloves our hands get numb within a couple of seconds, but being pulled by Pele over the snow covered ice of Lake Baikal is such an adrenalin rush that it makes me forget the cold and I am gliding … gliding kilometer after kilometer through the soft snow, with the endless smooth surface of the frozen lake all around and the striking Svyatoy Nos mountains rising almost vertically out of the ice on the horizon – I feel like exploding with joy!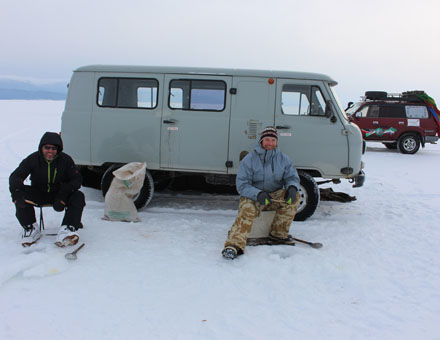 After around 25km of driving and snowboarding over the ice, we come across ice fishermen. They are dressed in thick clothes and look like the Michelin Man. Sitting next to their old Russian van in front of a hole in the ice which they have cut with a spike, they hold a wooden stick with a line. In a rhythmic movement, they move the stick up and down, in an effort to entice the fish below to bite take the bait. In the other hand, they clutch what looks like a sieve and at regular intervals scoop the rapidly building ice from the fishing hole. At their feet lies today's bounty, around 20 fish, some of which are still twitching, a rather unnerving sight as I am imagining what it would feel like to lie naked on the surface of Lake Baikal without oxygen. The two men invite us to have a go and we take their place on the rag tag camp chairs moving the wooden stick up and down while clearing the ice from the hole. I am rather relieved that we are not successful in catching anything and after some time we say good bye and move on. On our way, we realize that there are quite a few ice fishermen and they have built a temporary fishing village with Mongolian style yurts on the ice. Alexander tells us that during winter some of them spend several weeks on the ice without going home.
We are passing a tiny fishing village with a few old wooden houses on the shore of the lake. Some fishing boats are deeply snowed in, giving them the appearance of stranded whales. Some men who look like a Hollywood image of the Russian Mafia approach us as we pass by and ask us if we can assist them in freeing their stuck vehicle. We spend the next hour helping them to dig and tow their Landcruiser out of deep snow.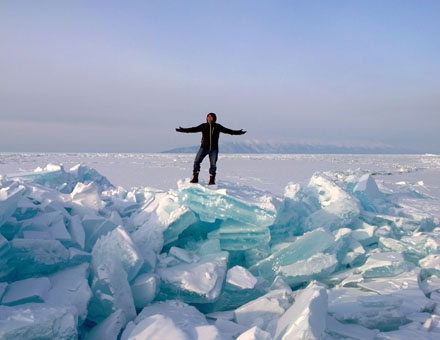 As we continue our journey across the lake, a huge rock comes into sight. Most of the year this is an island in the lake but it is now surrounded by ice which enables us to drive right up to it. We explore the intriguing caves at its base which contain fantastically formed ice crystals. Our last stop on this amazing day are natural hot springs in a remote part of the lake - after snowboarding in the fierce cold for hours, we thoroughly enjoy a hot bath right on the lakeshore, surrounded by snow and ice!
With the last light of the day, we come across a lone person pushing a heavily loaded bicycle through the snow. We stop and ask him if he needs any help and he gladly accepts our offer to load his bicycle on Pele's roof rack. His name is Burkhard and his goal is to cross Lake Baikal from north to south on his bicycle, 800 kilometers across the ice, depending entirely on himself. From cycling at temperatures of down to -45°C, he has frost bite on his nose. I am awed by his determination and courage and feel like a light-weight adventurer compared to him.
We spend the night in the cozy log cabin of our guide Alexander and his family. Dinner starts with sashimi from freshly caught Lake Baikal fish, complemented with home brewed vodka. After dinner, we relax in the sauna – the perfect ending to an incredible day which was packed so full with intense experiences that images of driving over crystal clear black ice and snowboarding towards an endless white horizon interchange as I am drifting into deep sleep.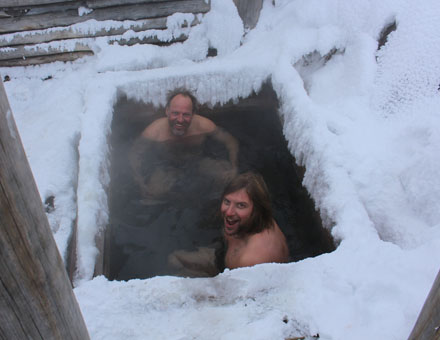 The next day, we explore a beautiful valley east of Lake Baikal whose picture-postcard villages with gingerbread wooden cottages are deeply covered in snow. The roads are extremely icy and when coming around a corner, we suddenly face a speeding bus heading our way. Trying to avoid a collision through engaging the breaks, results in Pele entering into a furiously fast and uncontrollable spin which luckily misses the bus by a narrow margin and ends in the snow wall on the side of the road. Miraculously, Pele is ok except a torn off rear bumper – our guardian angel has been watching over us! Quite shaken, we continue our journey to Ulan Ude, the regional capital of the Lake Baikal region. Ulan Ude is exactly how I pictured a city in the depth of Siberia in my head – arctic cold, snow-covered streets and a mix of old wooden houses, representative tsarist era buildings and ugly Soviet apartment blocks. The city center is graced by ice sculptures and ice slides that are beautifully illuminated at night. Again, the kid in us takes over and we tremendously enjoy ice sliding together with local kids - a wonderful end to an unforgettable and thrilling time at amazing Lake Baikal.