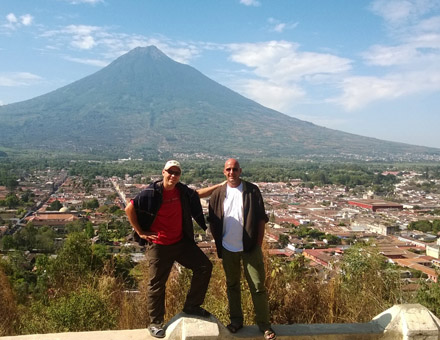 "There was a buffalo soldier", sings Bob Marley, "in the heart of America. Stolen from Africa, brought to America. Fighting on arrival, fighting for survival".
The place where we encounter a glimpse of Africa in Central America is a Garifuna village called "La Ensenada" on the Caribbean coast of Honduras. While the Garifuna people share a chequered and often troublesome history of colonialism, slavery, military dictatorships and civil wars with their fellow Central Americans, their unique story also is an example of what humans can achieve in spite of adversity. Their ancestors are believed to have arrived on slave ships that got wrecked just off the Caribbean coast, thus enabling the Africans on board to flee. They were welcomed by indigenous people on the island St Vincent, intermarried and started to found settlements across the Caribbean, managing to remain the masters of their fate despite persecution by French and English colonialists.
We arrive at La Ensenanda just in time for a breathtaking sunset and soak in some Caribbean magic, sampling self made Cuba Libre and going for a swim in the warm Caribbean sea just as the sun dips into the golden ocean. The beach is completely deserted and we are wondering what all the bamboo shades are for? Equally deserted are two discotheques right next to the beach. After dinner at the beach, accompanied by a zillion sandflies, we chat with Jose, a Garifuna and the owner of our guest house who is excited that we have come here all the way from Africa. He has been travelling the world as a sailor and tells us juicy stories about his visits to Mombasa and Lagos.
Honduras is one of the most dangerous countries in the world. In 2012, it claimed an infamous title when the UN announced that it has become the murder-rate capital of the world. Gang and drug cartel activities have led to murder rates more than four times the level in Mexico and more than 20 times that in the US. Police and military control posts interrupt our journey every couple of kilometers and heavily armed guards stand in front of just about anything. Jose tells us that La Ensenada is relatively safe but even here they every now and then find murdered people in the streets in the morning who have been dumped there over night – this seems to be part of life in Honduras. We are told that tourists normally are not affected by these drug wars and hope that we won't be an exception.
Apart from crime, mother nature's attitude to Central America is also rather ambivalent and may have further contributed to a cultural tendency to live every day as if it were one's last. No one knew better about the treacherous nature of the Caribbean waters than the Maya. "Huracan" is the Mayan god of the winds with the power to devastate during the annual Hurrican season between June and November. While all major Mayan lowland settlements were abandoned at the end of the classic Mayan era in the 10th century, Mayan culture in the highlands persisted, and this is where our journey through Central America has started - in Guatemala, "the heart of the Mayan world" as the country calls itself. More than 40% of Guatemala's population are descendents of the Maya - a figure that may seem low but is rather remarkable in the Americas as Guatemala has the 2nd highest percentage of indigenous people among its citizens of all American countries, only trailing Peru. This serves as a stark reminder of the terrible fate America's native people suffered in the course of colonialism.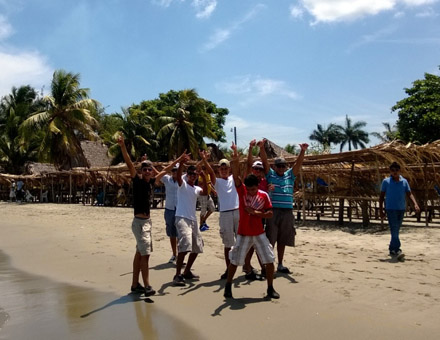 Lake Atitlan, our first stop in Guatemala, is surrounded by mountains including three volcanoes and the shores of its turquoise waters are dotted with small mainly Mayan villages, each with its own unique character. We head to San Pedro de Laguna, a little village nestled on the slopes of one of the volcanoes. As we navigate Pele through San Pedro's narrow lanes drawing plenty of attention, we catch a glimpse of the colorful traditional dresses that local people here are wearing. Walking through San Pedro, we can hear the sound of Cakchiquel, one of the many dialects of the Mayan language family. The Mayan people are quite different from other Central Americans in that their nature appears to be more Asian-like with a rather quiet and reserved dignity. Back from our walk through the town we decide to spend the afternoon exploring the lake on kayaks. Our first discovery is that the water level appears to change dramatically over time as we encounter the peculiar sight of a house partially submerged in the waters. Unable to resist an adventurous urge, we paddle through that house wondering what kind of life people might have been living here. About half an hour later we get caught up by Juan, a local fisherman whose paddling skills by far exceed ours. Chatting with him provides us with an idea of the ancient rivalry among the towns and villages along Lake Atitlan that have for ages vied for supremacy in the area - nowadays these battles are fought on football pitches and in the most recent tournament his village has apparently achieved a respectable albeit probably not entirely satisfying second place. We assure him that Germany will do better in Brazil!
Waking up to a splendid sunrise over Lake Atitlan, we pack our bags and head to San Marcos, another village on the lake shore that has a reputation of being an esoteric hippy haven. We wander around the village's narrow pathways, but instead of hippies we find an amazing seven meter high cliff above the lake. Looking at it from below, it tempts us to climb up and jump off it. Standing at the edge of the abyss, the temptation recedes rather fast, but there is no turning back now and we offer our personal salute to Lake Atitlan by splashing into its welcoming waters. We celebrate our heroics by indulging in a feast-like breakfast and enjoying the stunning scenery once more before heading to Antigua, Guatemala's former colonial capital. A devastating earthquake in the 18th century left most of the city in ruins. Almost completely rebuilt, it nowadays exhibits a picturesque splendor. With its cobbled streets, delightful cafes, restaurants and hotels, the city breathes history, charm and style. As if that weren't enough, several volcanoes majestically throne over the city. One of these is still active and sending a cloud of steam into the air it makes us feel humbled in the face of the forces of nature.
From Antigua, we continue our journey east passing through breathtaking mountain scenery and getting stuck in the traffic jams of Guatemala City, the largest urban area of Central America. With the last light of the day, we cross the border to Honduras and spend the night in Copan, another former Mayan town. It marks the boundary of the Mayan sphere of influence and is our last encounter with this great ancient civilization. As we are exploring the ruins, we are watched by colorful Macaws, the Mayan's holy bird, sitting high up in the jungle canopy.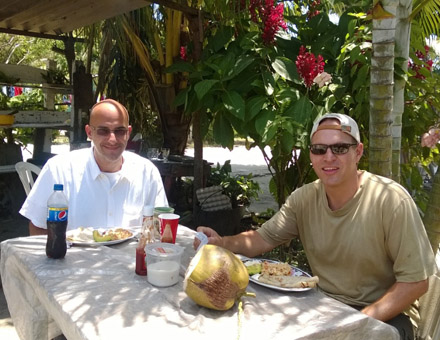 Back to La Ensenada and to the beginning of our story – after a good night's sleep in Jose's guest house, we go for an early morning walk along the awakening beach, with thumping music coming from both the discotheques. Suddenly, a bus screeches to a halt and close to a hundred people jump out of it and storm to the beach. An hour later, dozens of other buses have arrived and the beach is teeming with Hondurans from the nearby towns who have come out to enjoy Easter on the beach. They are predominantly families – couples are suspiciously absent. Passing the discotheques which now emit ear splitting music, we have a glance inside – it is packed with couples dancing suggestive Caribbean moves. It is 11am now and we are wondering what this place will be like towards the end of the afternoon!
We have a late breakfast at a food stall, Honduran coffee together with a Baleada, a typical Honduran dish, a tortilla filled with guacamole, egg, fried beans and chicken – delicious! A little girl comes and sits on our table, her name is Mae and she is the daughter of the owner of the foodstall, a cheerful lady. Mae is adorable and we take lots of pictures of her enjoying her morning tea. We ask her mum if she has any pictures of Mae and as she says "no", we decide to print out some of the pictures and give them to Mae and her mum as a good bye present as we are heading on to the Honduran jungle.