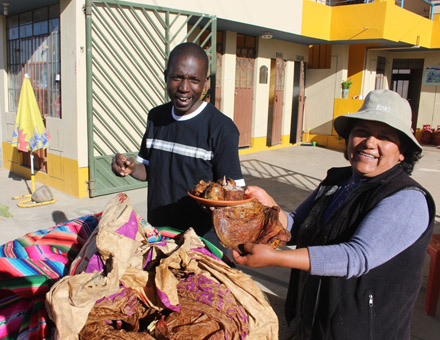 Day 198 and only 700km to the Brazilian border. Today, we plan to push all the way to the small Bolivian border town, and tomorrow we hope to cross the border to Brazil - 4 days to go to the start of the World Cup!

A quick recap where we left off in our previous story – in a small town in the Peruvian Andes, our Brazilian travel companion Fernando set off with Pele in search of a lost camera battery. We had agreed to meet three hours later but another two hours after the agreed meeting time, he was still nowhere in sight. It was getting dark and chilly and we had no warm clothes as we had left all our luggage inside Pele. We were wondering what to do if Fernando didn't show up, and I felt silly for agreeing to give him Pele. Just as I had chewed off most of my finger nails and was about to go to the police station to report Pele missing, Fernando suddenly re-appeared with Pele. When I asked him whether it had crossed his mind how we would feel waiting not knowing what might have happened, he reproached me exclaiming that an hour more or less shouldn't really make that much of a difference. At this point, it dawned on me that it was time to part ways and so we continued our journey without Brazilian Samba music.

Over the last couple of days, we have enjoyed a spectacular drive crossing the Peruvian and Bolivian Altiplano - the Andean plateau - where the sky is endless and incredibly close. This drive brings us to Lake Titicaca, the largest Lake in South America, whose mesmerizing deep blue contrasts with the desolate Altiplano and the glaciered 6000 meter peaks of Bolivia's highest mountains, the snow-capped Cordillera Real which forms the barrier between the Altiplano and the Amazon basin. According to Andean belief, Lake Titicaca gave birth to the sun, as well as the father and mother of all the Incas. Pre-Inca monuments are scattered across the landscape – from waist-high burial towers for dwarves to comical oversized stone penises. This is the heartland of South America, where priests bless taxis and lawyers sacrifice llamas.

By boat and on foot, we explore the gem-like sun-dazed Isla del Sol. In spite of the freezing cold at above 4000 meters, we get up early to witness a breathtaking sunrise and walk over the island where peasant women in bowler hats and sandals made from recycled truck tires tend to their llamas. Tired from the walk, we stop at a beach and dip our feet in the crystal clear and chilly water of Lake Titicaca before taking a nap on the beach – paradise!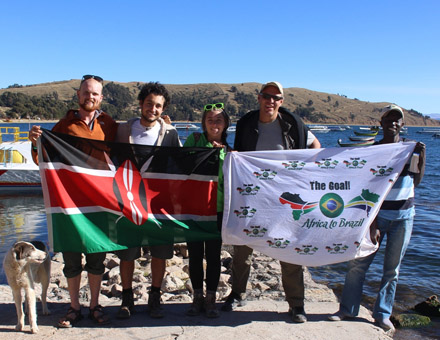 Crossing the border from Peru to Bolivia, we run into the most serious fuel trouble of our entire journey. As part of its socialist economy program, Bolivia has introduced fuel subsidies. Diesel fuel is very cheap in Bolivia but only for Bolivian cars. Foreigners pay three times the price for diesel fuel as locals do. Driven by the subsidies in Bolivia, there is a lot of contraband fuel trade with bordering Peru and as a result, fuel scarcity. Not being aware of this, we are already low on fuel when arriving in Bolivia and are shocked when being told at the petrol station in the Bolivian border town that there is no diesel fuel until next week. The next village is 50km away but there we are told the same. Another 40km, the next petrol station has diesel but no power and therefore, the pumps don't function. At this point, Pele starts to stutter and as it is close to sunset, we wonder what we will do if we run out of fuel in the middle of nowhere on the chilly Bolivian Altiplano. 20km further, there is again no power at the next petrol station and Pele now stutters very unhappily. Suddenly, as we approach a hill, various warning lights appear and stuttering wretchedly, Pele slows down to a cycling speed. We barely make it above the crest of the hill and I already have set the indicator to stop at the side of the road as I see a petrol station around one kilometer ahead. Luckily, it is a gentle downhill from here and with literally the last drops of fuel, Pele crawls to the pump as the sun spectacularly sets on the horizon. We are thrilled as there seems to be diesel fuel at this petrol station as well as power, but we are in for a rude shock: the attendant tells us that they haven't yet received the official fuel price for foreign vehicles from the government for June and therefore she can't sell us any fuel. We literally beg her to give us as little as 5 liters of diesel so that we can continue at least to the next petrol station but she doesn't budge. Desperate, we ask a truck driver for help – he finally agrees to fill one of our 20l fuel canisters from his truck's tank. This is how we finally make it to La Paz, Bolivia's capital.
La Paz is dizzying in every respect, not only for its altitude of almost 4000 meters - the first glimpse of La Paz literally takes our breath away. The city clings to the sides of a near vertical canyon and spills spectacularly downwards. As we arrive late that night, millions of lights glow in the huge bowl below. We spend the next day getting Pele serviced - and washed!, wandering the lively markets and taking the recently opened cable car to a fantastic viewpoint from where we can see the imposing snow covered peaks of Huayna Potosi and Illimani rising to above 6000 meters right behind La Paz.
As we are heading on to the Brazilian border, we note the omni-presence of Bolivia's president Eva Morales. There are countless posters along the road showing him in all kinds of incarnations. He is portrayed as quasi super-human which appears rather comical - I imagine Uhuru Kenyatta posing on giant posters along Kenyan roads as truck driver, construction worker, teacher, scientist, farm worker … you name it!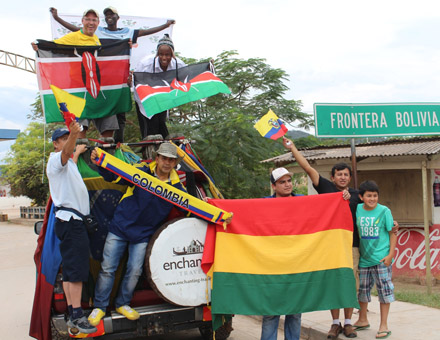 199 days and 42,000km after leaving Nairobi, we cross the border from Bolivia to Brazil. We celebrate together with football fans from Brazil, Chile, Colombia, Ecuador and Bolivia. Even though we still have 1,800km ahead to Rio de Janeiro, "Africa to Brazil" has become a reality!
Two long driving days later, we reach Sao Paulo late at night on June 11, one day before the opening match of the 2014 World Cup! Sao Paulo exudes an incredibly vibrant carnival mood as we head to its central square on the following day. Together with the locals, football fans from all around the world are celebrating the start of the biggest show on earth and we are right in the middle of it. Unnoticed, some tears are rolling down my cheek as I reflect on the amazing experiences over the last 202 days since we left Nairobi - I feel touched and immensely grateful for experiencing this moment!